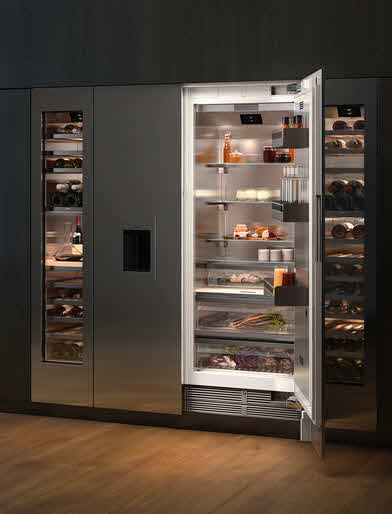 In March last year, I was delighted to be invited to a private view of the launch of the new Gaggenau Vario 400 cooling series; a modular range of refrigerators, freezers, fridge-freezers and wine climate cabinets which can be configured to meet an array of individual needs.
I am pleased to have our selection of the new Vario 400 series now installed in the Searle & Taylor Winchester showroom and the fridge, freezer and wine cabinet look fantastic installed side-by-side as a 'cooling wall' in a dramatic contemporary anthracite matt glass Intuo kitchen display on the ground floor.
As you would expect from a luxury brand like Gaggenau, there are a lot of stunning features that make this cooling system stand out from the crowd. The most innovative aspect is the Gaggenau opening assist system: push to open the handleless door and the mechanism will effortlessly open it for you – and this mechanism can also be tailored to excatly suit your requirements. Thanks to its ingenious proximity sensor, even the door's ice and water dispenser anticipates your needs and automatically activates the light and touch keys as you approach.
The doors to the larder fridge and integrated freezer open to reveal a complete stainless steel interior and dark anthracite anodised aluminium elements. Clear glass shelving and solid aluminium door racks are further complemented by a stunning atmospheric glow from the warm-white, glare-free LED lights.
The Vario wine climate cabinets in the 400 series take inspiration from the oak barrels used to age wine. Oak and dark anthracite aluminium bottle trays fully extend on telescopic rails to provide gentle support for the wine. Further safeguards are provided by the cabinet's low vibration, humidity regulation, and the activated charcoal air filter which protects the wine from odour contamination. Up to three independently controlled climate zones can also be adjusted via the newly installed intuitive TFT display. This means part of your wine collection can be stored in cellar-like conditions, while bottles that should be enjoyed now can be served on demand.
We feature a wide range of Gaggenau appliances on display at our Ropley and Winchester showrooms. If you are ordering one of our kitchens with Gaggenau appliances, we can also organise for you to have a private appointment at the Gaggeanu showroom in Wigmore Street, London to view the full range.
Please call or visit us for more information.