Darren next to a stunning handle display at Turnstyle Designs
Every year, I take a day out to attend Chelsea Design Week at the Design Centre, Chelsea Harbour. It is a cornucopia of high-end interior design inspiration with beautiful showrooms dedicated to every aspect of the home including furniture, wallpaper, fabric, swags and tails, lighting, sinks and taps, ironmongery, ceramics and so much more.
Previous visits have been focused on lighting and I have written before that I purchased glass and ceramic pendant lights from the Original BTC at Chelsea Harbour for my showroom and they still look fantastic. This time, I was keen to visit two showrooms: Turnstyle Designs and SA Baxter Design Studio and Foundry, as these brands specialise in architectural hardware – handles, knobs and hinges in numerous metal finishes. I already partner with bespoke ironmongers, Armac Martin and artisan blacksmith, Ged Kennett who both make stunning metal hardware for the kitchen.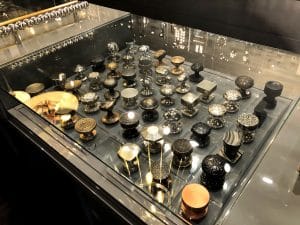 SA Baxter has a showroom that looks like a jeweller and they use similar processes in their production. It is beautifully laid out and it has every type of hinge and handle for every room in the home. The brand even makes metallic flooring, which is imported from New York and is really impressive and it has launched a new range of candles as well that smell divine.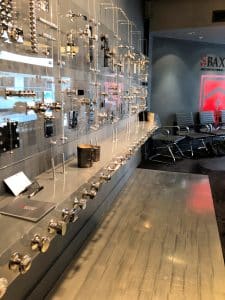 Turnstyle Designs also has a stylish showroom and I have worked with them before when specifying one of our Signature Bespoke bedrooms. Established in 1992, they have over 5000 designs and can custom-make handles to specification. They have launched a range of new pull handles designed to complement kitchens with range cookers and these retro-style sturdy, yet simple designs would also work well in kitchens that incorporate home offices.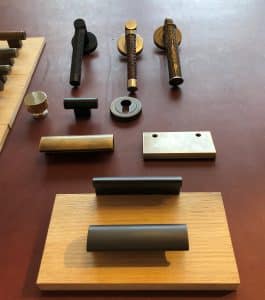 Contacts: