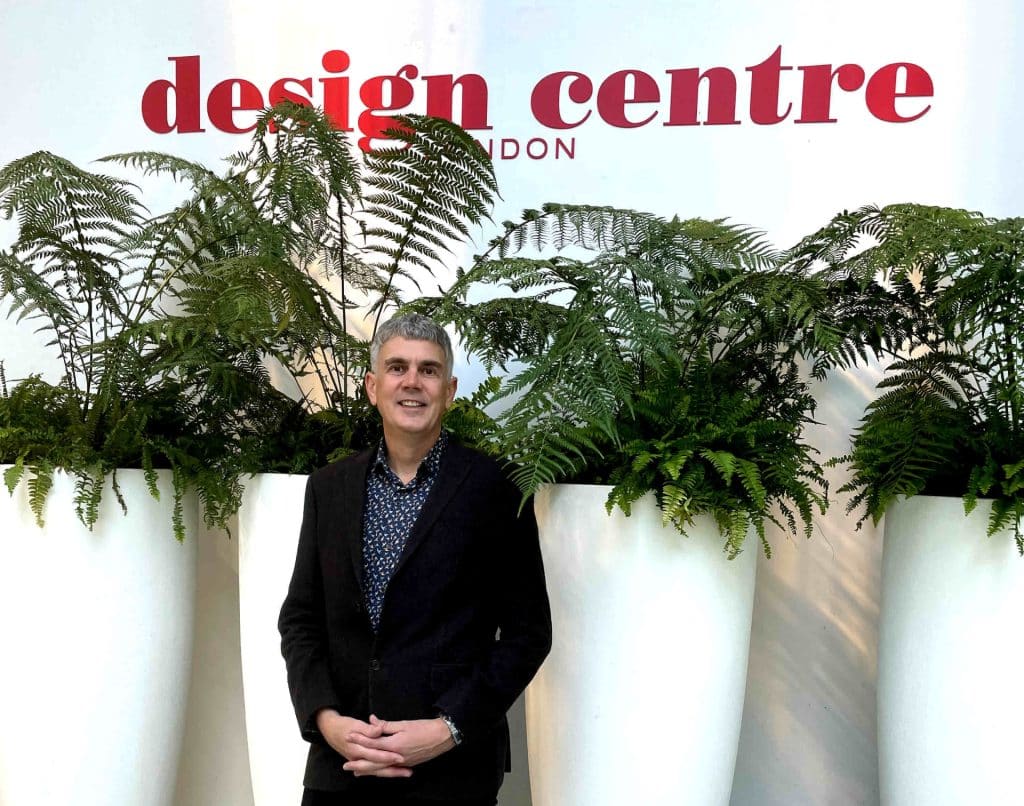 Every so often I take myself out of my comfort zone in beautiful Winchester to seek inspiration and attend new launches taking place in London. September and October are packed with interior design festivals and I try to attend at least one of them to see what's new and different. This time my day out at FORMED at the Design Centre in Chelsea Harbour coincided with an invitation to the launch of a new 'Super Oven' at Halcyon Interiors in Wigmore Street and on a day with a train strike, I duly paid the congestion charge and took a drive through the capital. 
FORMED WITH FUTURE HERITAGE 
This was a new show at the Design Centre, Chelsea Harbour to showcase established and emerging makers curated by the influential design journalist, Corinne Julius. She had selected a range of beautiful future heirlooms by a range of cutting-edge designers and the show was a delight. 
I trained as a cabinetmaker, and while my focus today is on design, I am as in love with wood as I was when I was an apprentice aged 15. It is therefore no surprise that my heart skipped a beat when I saw this table made from Kauri, a timber native to New Zealand's North Island and it has the most extraordinary and colourful grain. 
The table was designed and made by a company called Signature Kauri that specialises in making contemporary furniture from Kauri pieces that can be up to 50,000 years old. The timbers used for this table are a mere 20,000 years old! By embedding the timber in resin, it emphasises the natural characteristics of the wood grain and this dining table, on simple black metal legs is a combination of stunning contemporary design using the most ancient of materials. The company has recently moved to Lymington in Hampshire, which is not that far away from us here at Searle & Taylor. I loved it.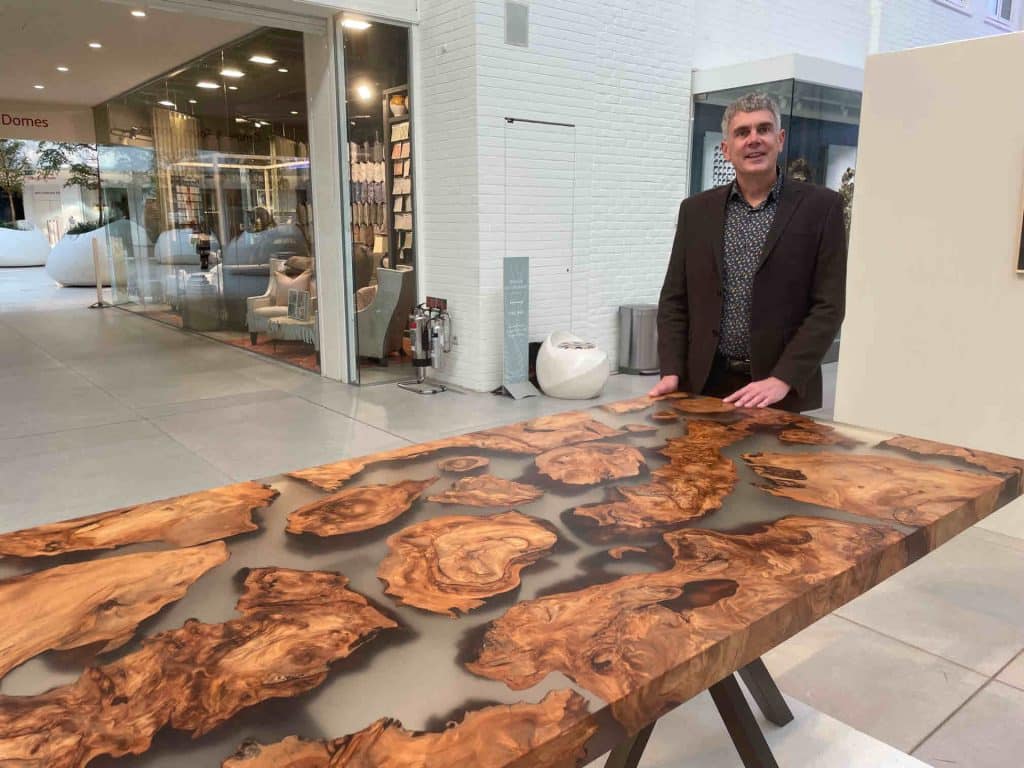 THE LAUNCH OF THE UNOX CASA SUPEROVEN AT HALCYON INTERIORS
Following a lovely drive through Knightsbridge and Mayfair, I managed to easily, yet expensively, park just off Wigmore Street for my next stop, Halcyon Interiors. Wigmore Street is a haven of high-end kitchen showrooms and Halcyon has been operating in the contemporary kitchens market since 1984. The company also showcases products from a range of different international manufacturers, many that are completely exclusive to them. 
My friend, showroom manager, Graham Robinson kindly invited me and other selected luxury retailers to the launch of one of these exclusive suppliers in the UK called Unox Casa, an Italian appliance brand known for making professional ovens for the commercial market, which is now entering the luxury residential arena. Unox casa has launched the SuperOven a 76cm wide configuration of ovens that does not need to be set into housings like a standard oven. It is the first professional oven for domestic use that integrates the high technology and performance for top tier restaurants with a design suitable for the most opulent residential kitchens.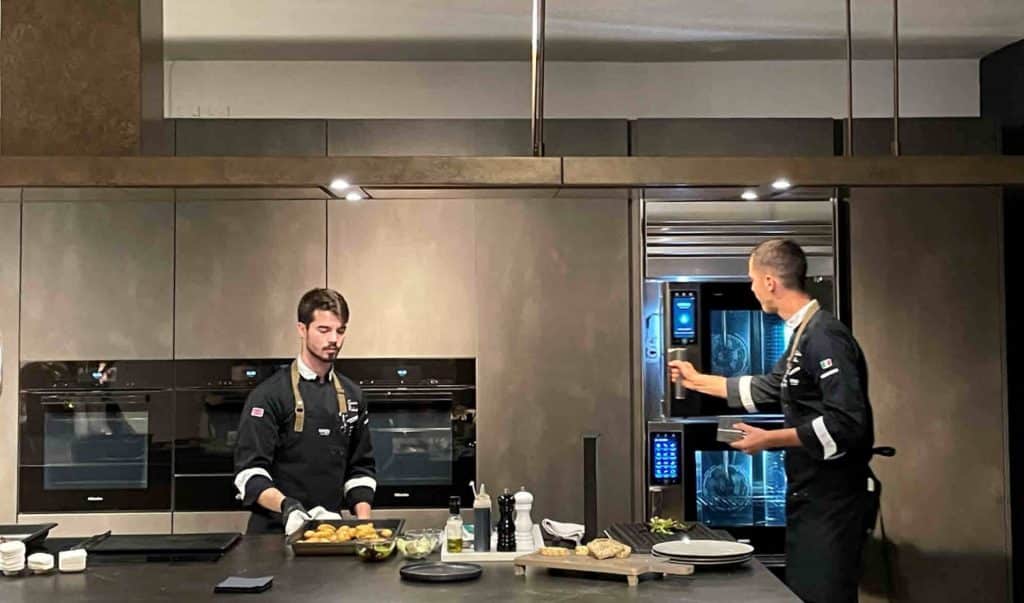 We were treated to a cookery demonstration and the food cooked in this oven was absolutely delicious. It can do just about anything and everything you could ask of an oven with 400 separate settings, but I particularly liked the fact that it can smoke fish and meat, and that it can dry fresh herbs easily. It also has its own internal washing and cleaning system, which is an interesting concept. If you want to know more about this Unox Casa SuperOven then contact us and we will arrange an appointment for you to have it demonstrated to you. 
THE NEW NOVY PENDANT LIGHT 
While Halcyon Interiors has exclusive suppliers, it also partners with several of the same high-end brands as Searle & Taylor, including Fisher & Paykel. Gaggenau, Westin and Novy. On display at the West End showroom is the new Pendant light from the Novy Light collection. Novy is best-known for its induction and extraction appliances included vented induction hobs where there is no need for overhead extraction. Novy's appliance products feature lighting also made by the brand at its factory in Kuurne, Belgium. Having recently acquired a lighting brand called Jansen & deBont, it has now incorporated this company's patented technologies into its own lighting platform and is now offering pure lighting options for the kitchen. The result is a brilliant idea – gesture-controlled lighting.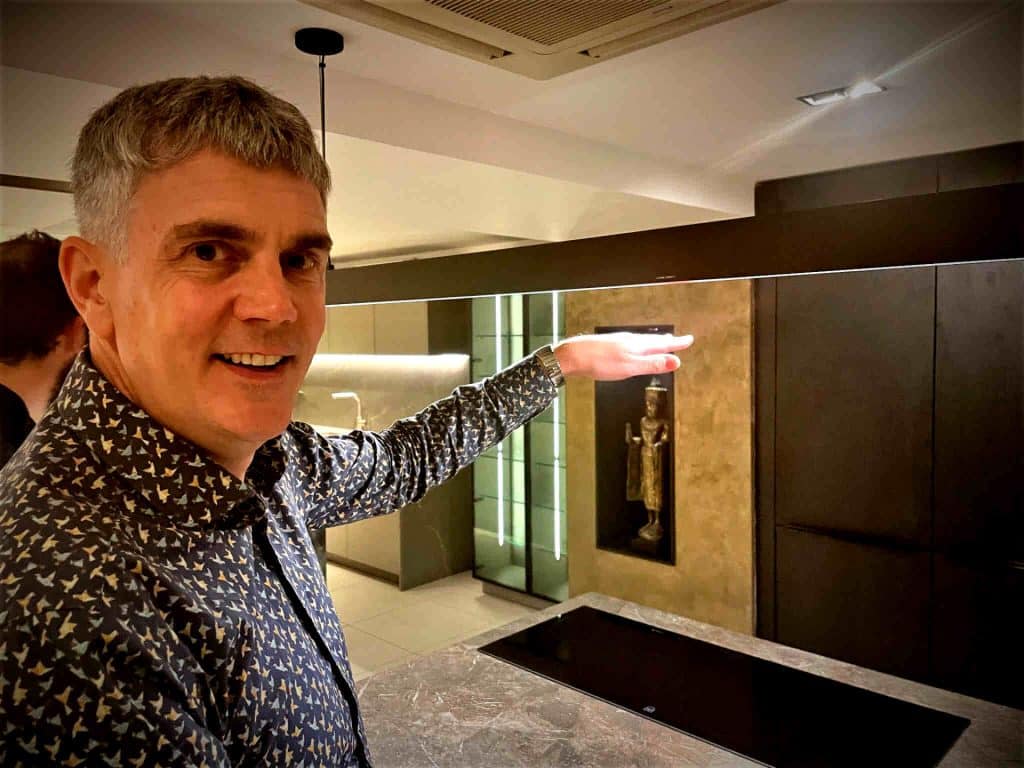 If you think about this concept, it just works. How often are you preparing food, getting hands greasy and dirty and then having to press a switch to turn on the lights, which immediately needs wiping down? With this pendant light (there are other versions too) you just wave beneath it to activate it and then a range of different gestures increase the illumination, focus it in a specific direction, change the colour, add light above and beneath the pendant and then turn it off. No touch required. Ideal for a kitchen in the post-pandemic world.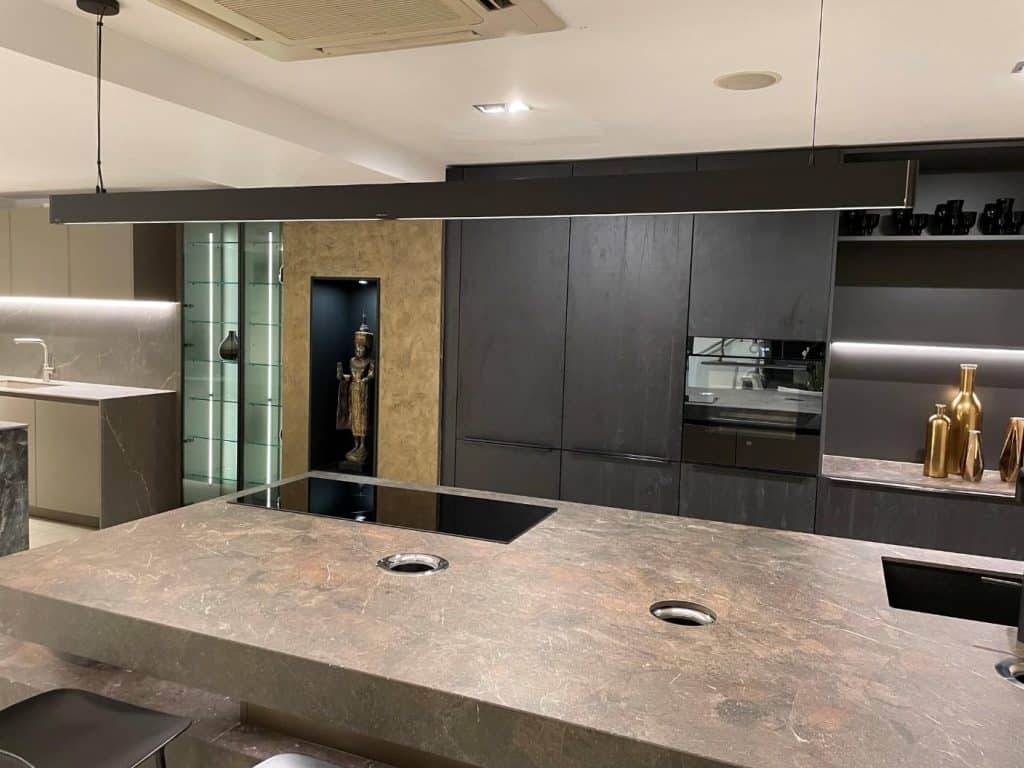 For more information about the Unox Casa SuperOven or the new Novy Light collection, please get in touch.