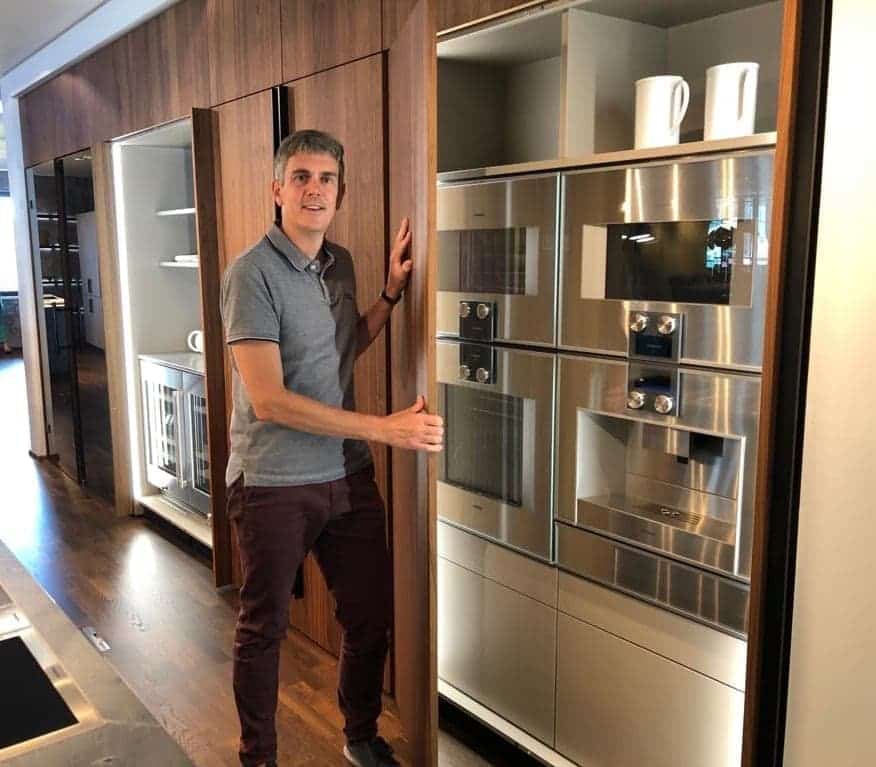 In 2015, UK Permitted Development rights were relaxed, allowing many homeowners to extend their properties without requiring full planning permission. This situation was due to end in May this year but the law has been given a long-term continuation. Because of this, the open plan kitchen and living space has become a very fashionable option for homeowners that can either knock-through from one room to another or who have been able to extend their property, and many kitchens have been designed as part of open plan cooking, dining and living spaces, all in one large lifestyle area.
This is fantastic if you have the luxury of space where there are specific zones for cooking, dining and living, but many home extensions only allow for a larger open plan kitchen and dining area. This then becomes a homework area by day, but a dining room by night, when you might want to feature an open bar, if you have guests. Or, it might be a home office to use by day, but that will need to be hidden from view when it becomes a working kitchen the rest of the time. Space, or lack of it is always the major issue, and many innovative European kitchen furniture companies (and Searle & Taylor) have found ways to ensure that you can have a fully multifunctional room, whatever your requirements. How? By using pocket doors…
In fact, the latest fashion in European kitchen design is to completely conceal the kitchen altogether in order to purely have a beautiful and uncluttered social or workspace. You then have the opportunity to open it up, by pivoting the pocket doors back into recesses to reveal a fully functional kitchen with all appliances on show, but only when they are required. This is why pocket doors are now becoming the 'fashion essentials' in the kitchen, whether it is ultra-contemporary or a more traditional bespoke option.
How do they work?
Using a special pivotal runner system, most pocket doors in kitchens are featured as double doors when closed, but single versions can also be used. When the doors are opened, they pivot into carefully measured side recesses to be completely out of sight, leaving an open area for your bar or for your cooking appliances, or your utility space. As soon as you want to conceal it, just pull the doors back out and close them. Voila!
Alternatively, you can also have bi-fold doors created that double-back on each other first and then the folded doors withdraw into side recesses, which is ideal for use with a freestanding dresser with limited depth. This is a great option if you have a concealed TV screen integrated within the furniture.
Pocket Door options from Searle & Taylor
As pocket doors have become more fashionable across European kitchen design, our Austrian kitchen furniture partners, Intuo feature a number of contemporary options within their portfolio, and their kitchens are always designed by us.
Alternatively, for those of you seeking a handmade kitchen with contemporary twists, our Signature Bespoke collection features pocket doors made to any size and style. Before I was a kitchen retailer, I was a cabinetmaker and I love the idea of making furniture with multiple functionality. We design kitchens and workspaces with all types of pocket doors to suit you and your lifestyle, whether for tall cabinetry or for smaller freestanding pieces.