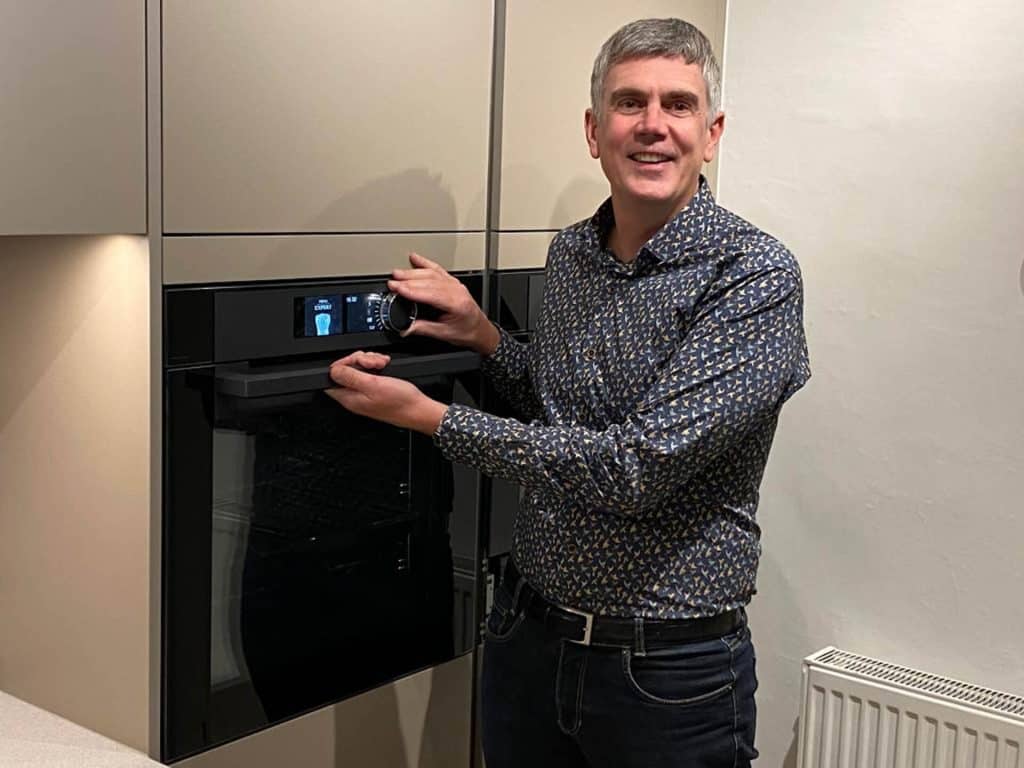 As an independent kitchen design studio, we are always on the lookout for products from partner brands that we believe will meet and exceed the expectations of our clients, and will look fantastic in our kitchens. 
I have always been impressed by the functionality of the appliances by French brand, De Dietrich. It has recently launched a range of stylish cooking products in its new Coal Black colourway, designed to suit every kitchen style with its minimalist aesthetic. We have just installed a 60cm multifunction pyrolytic oven, a 45cm combination microwave and a 14cm warming drawer as an appliance bank on display within our EWE contemporary handleless kitchen roomset on the lower ground floor of my showroom, and all appliances can be demonstrated to you. 
De Dietrich is renowned for innovation. It was the pioneer of the domestic induction hob; the first brand to recognise how induction technology could benefit cooking in the kitchen by being double the speed of gas at high heat, gentler than gas at low heat, more controllable than gas and, yet, safer, easier to clean and more energy efficient than any other hob type. It was also the first brand to invent pyrolytic self-cleaning in ovens; if you have ever had to clean inside an oven, then you will understand what a godsend this is because it requires no chemical agents and minimal effort. 
The interior cavity of each De Dietrich pyrolytic oven features a special enamel coating and quadruple layered glass doors. This enables it to safely heat up to 500°C to reduce all grease and cooking residue to a fine ash, which just needs a wipe down of the oven's interior, when cooled. The latest A+ energy rated De Dietrich pyrolytic ovens now have a truly efficient Auto Pyro function where the Perfect Sensor in the roof of the cavity will detect the exact moment when the oven is clean and will automatically switch off there and then. 
The French are renowned for their cooking prowess. The ovens we have on display have features and functions that are designed to help novice cooks and professional chefs alike. They have been created and manufactured to the the highest levels and due to advanced sensor technology, each oven includes an array of automatic cooking functions, with pre-set recipes to help you cook perfectly.
De Dietrich DOP8785BB 73 litre Single Oven in Coal Black
With a coal black rotary control that uses a twist and click mechanism, the full colour TFT screen navigates you through the oven functions and automatic recipes. 
This A+ rated 73-litre oven has nine manual functions to choose including fan assisted, combined heat, ful and variable grill together with a useful defrost function. It also features a De Detrich Perfect Sensor, enabling its Chef Mode and an array of further automatic cooking options:  
Chef Mode features 15 of the most frequently cooked dishes, including meat, fish and vegetable options. Just choose the dish, place it on the rack height recommended on the display and the oven will set all the cooking parameters. 

The Culinary Guide offers automatic cooking of 50 different dishes. Where all you have to do is input the weight and the oven will select the ideal cooking function, temperature and cooking time. It also features fully telescopic slide-out rails for ease of use. An additional 

Low Temperature cooking features 10 different options for gentle and consisten cooking under 100

°

C, ideal for tender and flavoursome slow-cooked dishes. 

The Drying function performs a perfectly controlled bacteria-free dehydration process of fruit, vegetables and aromatic herbs at between 60

°

and 80

°

C, allowing them to be preserved in a hygienic way for months. 

The French Patisserie option features 14 automatic recipes for perfect patisserie style desserts and baked sweet and savoury delicacies, including chocolate fondants and macaroons. 
With a quadruple-glazed door and a specially-treated internal cavity there are three separate pyrolytic cleaning options dependent on the dirtiness of the oven. In addition, the energy efficient Auto-Pyro system uses the Perfect Sensor to detect the dirt level of the oven and then it automatically chooses the time required to clean the oven, switching off when clean. 
De Dietrich DKC340BB 40 litre Combination Microwave Oven in Coal Black
With the ability to cook food like a speed oven, this versatile combination microwave defrosts, reheats, roasts and it also features a fan cooking function. It also features an automatic cooking function for 10 of the most popular dishes, a separate grill and microwave. With its combined functions, a chicken can be roasted in far less time than in a standard oven. 
With a rotary click and twist control and white LCD screen, this attractive combination microwave is the ideal accompaniment to the larger pyrolytic single oven, both in stylish coal black colourways. It also comes with three memory programmes that can be pre-set for your favourite dishes, a 60-minute timer with a delayed start, and a Speed Defrost, with three programmes. 
All De Dietrich appliances come with a three-year warranty upon registration.