At Searle & Taylor, we design and sell complete kitchens. This means that we design kitchens that feature appliances, worktops, sinks and taps and accessories, like handles and glass splashbacks. The prices for these products are all included in our quotations.
We sell complete kitchens for your convenience and peace of mind. By doing so we can ensure that everything is compatible with the furniture that we are supplying. We also have insurance that covers all your products before they arrive at your home.
We do not make vast margins on the products that we supply. However, we do make margins to cover the cost of having a showroom. This is where our clients can visit and experience up-to-date display kitchen roomsets showcasing everything for your kitchen, including furniture, worktops and appliances from premium brands that we can demonstrate to you.
We are aware that we sell certain products that you could possibly purchase directly for slightly less cost. However, this is often a false economy and these are the reasons why:
Buying appliances direct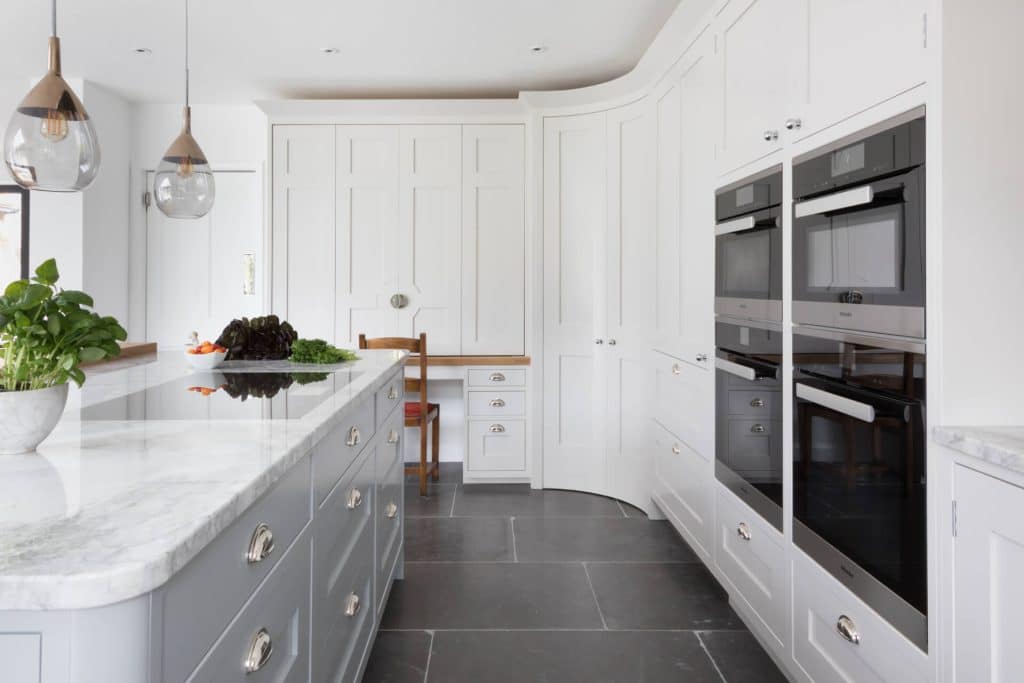 If we are designing your kitchen and you purchase your appliances from us, we will store them safely in our fully insured warehouse until the project needs to be installed. Everything then arrives on a given date, all at once, and we will take all the packaging away once installed. We will also quality-check them in advance so when they arrive at our warehouse, we can ensure they are perfect. If we spot any damage, then we arrange for replacements – long before they are due to be installed as part of your kitchen.
If you buy your appliances directly, then you will receive the product at any given date, not just the date of your installation, so you will have to store the packaged appliance(s) correctly in your home. Your kitchen design company is therefore not insured, nor responsible for any appliance if there is any damage to it when opened.
Kitchen appliances tend to come with a lot of packaging. If you are buying a new kitchen, you may be purchasing at least six to eight new appliances at one go. If purchased direct, you will also be entirely responsible for the removal of all packaging of the appliances from your own home. This normally includes polystyrene, wooden battens and hard and soft plastics.
Buying worktops direct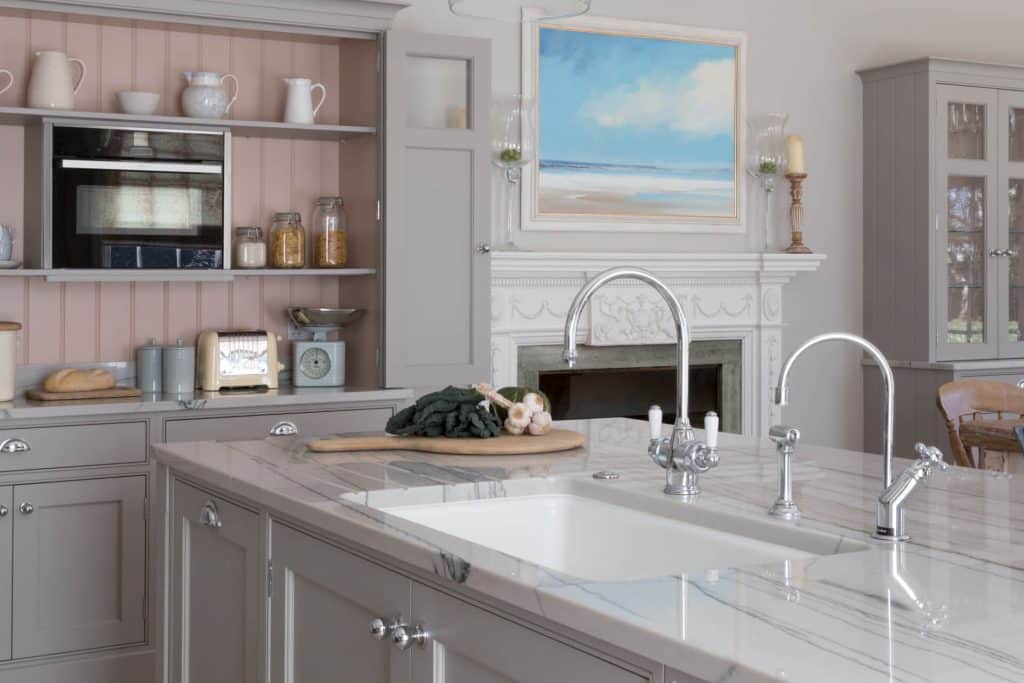 We genuinely advise against this because you are not just buying a piece of stone, or quartz or any other surface, which will be the price you are originally quoted for. When your worktops arrive at your home, they have to be a perfect fit for your kitchen because they have to fabricated with spaces cut out correctly for your sink(s), taps(s), hobs and any other aspects that are required. An independent quote will mostly be less than ours because it usually does not take into account the design process and, importantly, the fabrication process, which has to incorporate the exact dimensions of all the other products that will sit within your worktops.
If purchasing direct and any dimension or cut-out is wrong, then you will be liable. While workarounds can sometimes be found, you may have to purchase another slab of the same material at your own cost to ensure that it is the right fit for your kitchen. These problems can then quickly escalate, as another slab required may not be from the same batch and this can result in a slightly different shade and texture. When you consider that your worktop is likely to be the second most expensive part of your kitchen, after the cabinetry, this can become very costly.
Even if you just require a plain worktop without cut outs and you choose to purchase it directly and have it fitted separately, you then have to consider its arrival to your home and how you will store it, with all of its packaging, prior to installation. Worktops are very heavy. If third party installers are fitting them, and they happen to damage the units or scratch a hob when they check the worktop fits in into their cut-outs, we will not be liable for any damage, as this part will be out of our hands.
All our worktops are professionally templated prior to installation. This means we know they will be a perfect fit and all the points are covered off, such as correct hole sizes for taps, drainer grooves, extra holes required for soap dispensers and air switches for waste disposals - all expertly positioned in the correct spaces. We will also warehouse your worktops in our fully insured warehouse and our recommended installers will fit them with the rest of your complete kitchen.
A complete kitchen for your convenience and peace of mind
At Searle and Taylor, we are highly experienced in bringing together your complete kitchen. We have the training and expertise to ensure that everything, from the design all the way through to the installation, is as convenient for you, as possible. We are also fully insured and we perform rigid quality checks, making sure that everything is right for you. That peace of mind is what you are paying for, and we believe this is value for money.