WHY WE RECOMMEND EVERHOT RANGE COOKERS
A couple of years ago, I designed a Signature Bespoke kitchen for a client in Winchester who was a pleasure to work for. When we were discussing the appliances for her kitchen, she had done a lot of research and was set on having an Everhot 110i cooker installed in Dove Grey to perfectly match the paint colours for her kitchen and dining room. It is an electric cooker with three ovens, a two-zone induction hob on the surface with an electric hotplate next to it, and it also heats the ground floor of her home.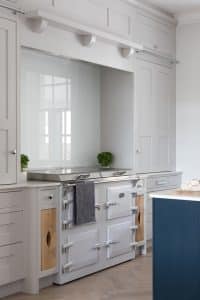 A Dove Grey Everhot 110i in a Searle & Taylor Signature Bespoke kitchen in Winchester
Together with the stunning design of the cooker that features clever magnetic cast iron doors, I was really impressed by its energy efficiency credentials and the fact that it runs off two 13-amp plugs making it very easy to install. Each Everhot is handmade in the Cotswolds and there is an impressive range of size options from 60cm to 150cm widths. 
Since then, Searle & Taylor has become an Everhot dealer for Winchester and we have a Everhot 110i in Graphite colourway on display in our showroom, which we can demonstrate to you. We like the fact that this model includes an induction hob because it means that you will have a surface cooking option throughout the year even if you switch the cooker off during the summer months. We also have sample colours for you to look at and we can talk you through the many features and benefits of this innovative and efficient brand. With 20 colours to choose from there's an Everhot to complement any kitchen design. 
About Everhot:
In the mid-1970s inventor and engineer, Ossie Goring, was concerned by how much energy his heat storage cooker was using and, living at a water mill, he decided to set about creating an environmentally-friendly heat storage electric range cooker which could run off the water turbine he had installed. A few years and many prototypes later, Ossie had perfected a 'trickle-feed' design, which allowed his new cooker to be powered by the small intermittent flow of electricity provided by the mill's turbine. To this day, an Everhot's peak electricity demand is a fraction of that needed by other range cookers. Ossie's breakthrough not only enabled the first Everhot to run off his water turbine, but also a standard 13amp plug. For the last 25 years Ossie's son, Guy Goring – also an engineer – has continued to ensure that Everhot cookers set the pace in terms of innovation, efficiency, design and functionality and he has built the business into a real British engineering success story. Sustainability remains deeply embedded in the brand's DNA. 
For more information, please get in touch