We are currently offering a complimentary Miele G5260 SCVi Active Plus Dishwasher with a retail value of £999 as a gift with purchase when you order a new kitchen over £25,000 for a limited time only during our SALE. Here are the reasons why we recommend Miele integrated dishwashers:
When it comes to product testing, Miele certainly stands out as one of the most thorough, trusted and advanced premium appliance brands. Founded in Germany in 1899, the company focuses on making products that last the test of time and are renowned for their endurance. We feature the Miele G5260 SCVi Active Plus Dishwasher in the ELK by Searle & Taylor Grid display in our showroom and because this is a bespoke option, it is installed at an ergonomic height level so that you don't have to bend down fully to open the door.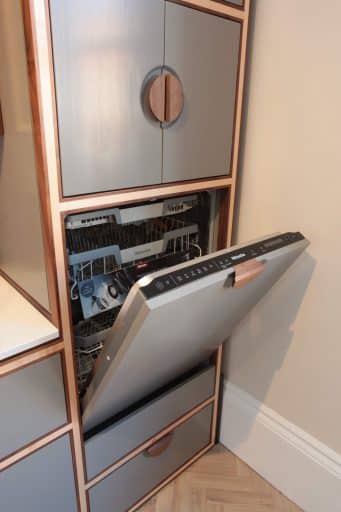 We recommend this highly energy efficient A+++ 60cm integrated model as we believe it offers the ideal features and benefits for many of our clients. It has two pull out baskets together with Miele's space-efficient 3D MultiFlex cutlery tray for cutlery and utensils at the top of the machine.
The dishwasher uses as little as six litres of water per cycle and it has seven programmes including a 58-minute short programme for lightly soiled items, a Gentle programme for glasses and an Expert programme for intensive cleaning. It also benefits from AutoOpen drying: at the end of the programme the door of the dishwasher opens automatically and leaves a small gap. This allows fresh air to reach the crockery and even washed items like plastic dishes dry completely, while keeping kitchen worktops protected from moisture by special air ducts.
Every Miele appliance is designed to conserve energy and natural resources, including dishwashers which are tested to the equivalent of 20 years' use, and are built using high grade, recyclable materials. Dishwashers are tested for the equivalent of 20 years' use by running the 75ºC programme 7500 times, by opening and closing the door 100,000 times, and pulling the baskets in and out 100,000 times.
Thanks to Miele's constant focus on sustainability, its dishwashers automatically adjust the amount of detergent and water required for every load, enabling a full cycle to use as little as 6 litres of water - that's less than a sink. And with its versatile cutlery tray - standard on all Miele dishwashers - more space is available for larger items, helping to increase the number of dishes washed in each load. Miele's dishwashers can also be safely connected to a hot water supply, reducing heating up time and energy use by up to 40%.
To organise a appointment with one of our expert designers please fill out the form below: