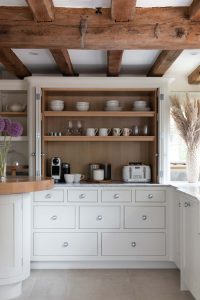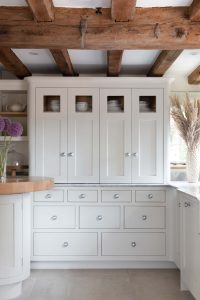 What is a pocket door? 
Unlike a standard cabinetry door that opens and closes on hinges, a pocket door features an additional runner system at the base and the top of the door so that it can open outwards and then slide into a side recess (the pocket) leaving the interior on show and making everything inside easy to access. 
What sizes are pocket doors? 
They can be any size if they are made bespoke, or they conform to specified measurements if made by furniture manufacturers, such as Intuo. Pocket doors can be full-sized from the floor to the top of the cabinetry, or they can comprise doors to a cabinet with drawers beneath. Dependent on the amount of available space in your kitchen, they can also feature the full door that pulls out and slides back into the recess. Alternatively, a space-efficient option is to have a bi-fold door that folds first and then slides into the pocket at half the depth of the actual door size.
What can pocket doors be used for? 
Because the doors open and slide into side pockets, they enable you to access the cabinet's interior fully and easily. With full pocket doors, this can mean concealing a complete utility area in a kitchen until it is required, and we have an example of how this works effectively in our Winchester showroom.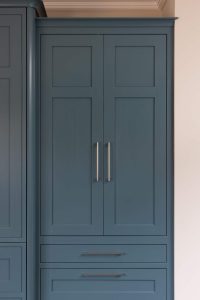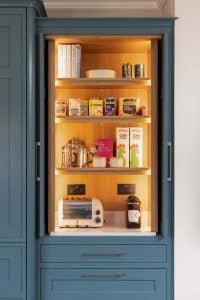 As part of a run of kitchen cabinetry, we often recommend using pocket doors for breakfast stations. A breakfast station usually contains shelving and plenty of electrical points for coffee machines and toasters, and tend to feature a hard surface, often the same as your worktop, at the base. Designed to accommodate everything required for making tea and coffee, together with breakfast goods, they can also include a separate boiling water tap as opposed to a kettle. Because it is used regularly, the breakfast station is located away from the main food preparation area and cooking zone so as not to get in the way of the cook. Pocket doors are are also ideal for pantry larders, because the cook can then easily access all herbs, spices and condiments when required.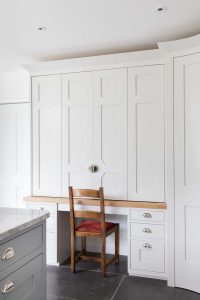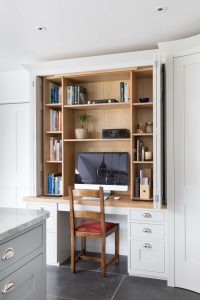 The other function of pocket doors is to conceal aspects of your kitchen or your home that will only be used at certain times. For example, a home office that will be used during the day, or on the flip-side, a home bar area that is only revealed when socialising and making cocktails.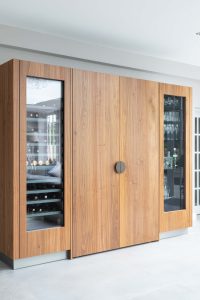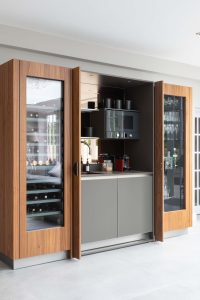 Pocket doors can also be used as part of a dresser that faces a dining area, with a slimline TV installed inside the cabinet. Great for watching TV when having an informal supper, but completely hidden from view when entertaining guests.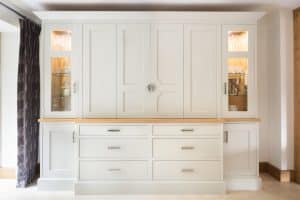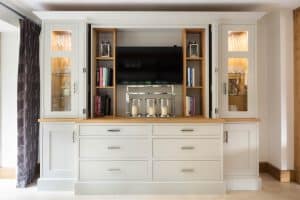 What styles do pocket doors come in? 
You can have pocket doors in any style, from contemporary handleless slab doors to in-frame Shaker doors that can be designed with, or without handles. 
Are there any disadvantages to pocket doors? 
The main consideration is that the space for the internal cabinetry will be smaller than having standard doors because of the need to for a recessed 'pocket' to accommodate the door. With double doors that recess will be on either side of the cabinet. If you have doors with handles, we will design the recesses to take the handles into account and we will recommend the best handles to use so that the doors can still be concealed. Alternatively, you can have a pocket door that will only slide inwards until it reaches the handle or the knob, leaving a few centimetres of door on view on either side. 
Find out more
To find out more about pocket doors and how they can be designed as part of your new kitchen, please book an appointment at our showroom on 01962 850 851. 
Please click on the videos below to see Pocket Doors in action