Do you have a favourite fizzy water? I do. It comes out of a tap. In fact, it comes out of the same tap that I get my hot, cold and 100° boiling water. This is what you can have if you have a Quooker Cube in your kitchen and why it's called 'the tap that does it all'. 
I have always been a fan of Quooker Boiling Water taps and was one of the first retailers to have them on display in my showroom because I like the energy efficiency and sustainability credentials that these taps offer. Also, because I am a designer, I love the idea of my clients having a clutter-free kitchen. With a Quooker tap installed, you don't need an electric kettle taking up room on your worktop, making your kitchen look much neater and leaving you with more preparation space. It also costs much less to boil water using a Quooker tap then it does to boil a kettle*. With a Quooker, you just need enough boiling water to fill the cup, or your saucepan using the exact amount of energy required.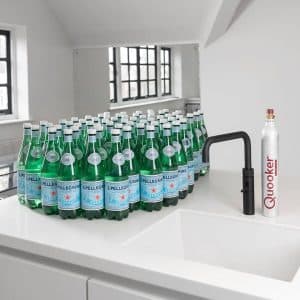 It also costs much less over the long term to have fizzy water from the Quooker Cube than by regularly buying it in bottles. Also think of the plastic, and how much never gets recycled, but ends up in your local river or canal and eventually, the sea. Also, a litre of fizzy water from a Quooker Cube costs 29 pence* in comparison to my favourite bottled water that is around £92 pence per litre. And the then there's the taste. The bubbles are small and delicious. Very much like my favourite bottled water. 
If you are having a new kitchen designed and made by us and installed by our trusted fitting teams, we can ensure that the PRO-3 VAQ tank and the Cube that goes next to it can all be fitted in a 45cm base unit under the sink. The cost of the installation will be included within the overall installation charge for your kitchen. 
Yes, I am a big fan of the Quooker Cube system and I have one with a matt black Fusion Square tap in my showroom, which re-opens from 12th April. Until then, please take a look at this video that demonstrates how it works and another which details Quooker's Sustainability story. *Source: Quooker UK